Jenne undertook tarot classes in 1995-6 and became a Professional Tarot Guild
member in 1996 via examination and readings for the Tarot Guild of Australia Committee. This binds her to their ethics and codes of practice.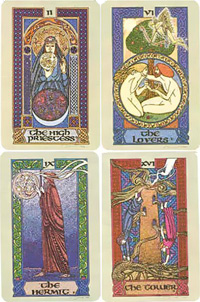 Jenne interprets the cards in the context of dialogue with the client, assessing what the client needs via their questions, decisions and issues. The common ones are relationships and careers.
Jenne is highly intuitive, and connects with her higher wisdom and uses all the esoteric teaching and experience she has gained over the years. Jenne incorporates her counselling skills and understanding of psychology into the reading, gained from 25 years as a Social Worker, and a degree in Medicine.
Jenne uses a variety of decks but particularly the Spiral and Mythic tarot. She starts her readings with a general view of the person and then narrows into specific areas of the clients life, looking at the particular issues they are grappling with. She uses her knowledge of family of origin issues and their impact on adult relationships to enable the client to delve deeply and to bring forth aspects they may not be conscious of.
Jenne incorporates myth, the gods and Goddess, Jung, astrology and Kabbalah and dreams into these consultations.
Contact Jenne
Jenne sees people by appointment in East Brunswick.
Costs
$80 for a one hour appointment.
Gift vouchers are also available.